More than just TFLOPS
Buckle up, kids. This is gonna be a long ride.
Going into Microsoft's conference on Sunday, there was one obvious thing the majority of people cared about: Project Scorpio. Microsoft's mid-cycle refresh of the Xbox One was set to debut. My son, a confirmed Xbox fanboy, was foaming at the mouth thinking about it. I'm sure he wasn't the other one. Right, Lou?
Not me. My interest rested on the games. In my opinion, a new-fangled console was crap if there weren't that many games to usher it in properly. Plus, I was still pissed about Cuphead and Crackdown 3 being in limbo. That's where my brain was: games.
As before, I will address everything Microsoft announced in order of appearance.
UPDATE: I had to remove some games and repost them as individual articles. Don't worry; this article is still ridiculously long.
A Quick Preamble
Phil Spencer made a point to highlight that the conference would show 22 "console launch exclusive" titles. That's a term many haven't heard before. Well, there's a reason for that: it's marketing-speak for timed exclusive. Keep that in mind when I talk about the games below. They're only exclusive to the Xbox One for now. They'll be on the PlayStation 4 (and maybe the Switch) eventually.
Xbox One X
Project Scorpio gets an official name! And it's…okay? Xbox One X? Seriously, the guy at Microsoft who's in charge of naming their consoles needs to be fired.
Name aside, the Xbox One X looks like one sweet console. I won't get into TFLOPS and memory bandwidth, but suffice to say it's a pretty powerful box. And that box is slightly smaller than the Xbox One S, which is quite a feat. Reports are that it's also heavier than the Xbox One and Xbox One S, which doesn't surprise me. Like the S, the X has an internal power supply. That, plus the liquid-cooled vapor chamber and the heartier components, adds some heft.
The vapor chamber is particularly interesting to me. With the stronger components in the X, a stronger cooling solution was a no-brainer. Microsoft decided to counter the extra heat by employing a cooling solution usually seen on high-end PC graphics cards and servers. A liquid-cooled vapor chamber is much more efficient at dissipating heat than traditional heatsinks or heat pipes. It's a flat structure that is vacuum-sealed to keep the liquid from spilling out and frying delicate innards. The liquid inside turns to gas and rises away from the base, transferring the heat away from important components along with it. Once cooled at the top, the gas reverts to liquid and settles back down, restarting the process. The result is a less toasty system.
Judging by the specs the vapor chamber is definitely needed. The Xbox One X has enough horsepower to play many games at true 4K resolution. In addition, the X's supersampling ability means that games at lower resolutions look sharper than they normally would. That's good for people like me who haven't jumped on the 4K bandwagon yet. As a bonus, Xbox chief Phil Spencer announced that older games are able to receive patches that allow them to be played in true 4K. He highlighted Gears of War 4, Forza Horizon 3, Killer Instinct, Halo Wars 2, and Minecraft as games that were getting patches soon.
So now comes the big question: is the Xbox One X a must-have? If you're a bleeding-edge gamer who needs the best and most powerful tech, you were buying this before the formal reveal. Xbox One S owners are fine staying put unless they want true 4K. For original Xbox One owners like me, though, it's an interesting proposition. It's much smaller and much more powerful. Personally, I won't be getting one when it makes its debut on November 7th. All games will play equally fine on all three, so there's no material benefit. Sure, I won't have a console that's, in the words of Phil, is "in a different league than any other console that's out there." But I don't feel I need it.
Forza Motorsport 7
The bi-annual mainline Forza Motorsport title made its appearance along with the obligatory gaudy car porn. This year, the centerfold was the 2018 Porsche 911 GT2RS. Porsche also signed a 6-year agreement with Microsoft. That's not as flippant as it may seem; Porsche recently ended an exclusive agreement with EA.
Past that, the only thing to really mention regarding Forza Motorsport 7 is its 4K sheen. This is Microsoft's premier racing simulation series, so it's natural it would get all the bells and whistles. And it is quite the looker.
Forza Motorsport 7 launches on October 6th for Xbox One and PC.
Playerunknown's Battlegrounds
Brendan Greene, the man known as Playerunknown, and developer Bluehole have a runaway hit on their hands. The multiplayer battle royal game has a reported 3 million registered players. Thanks to a console launch exclusive agreement with Microsoft, Xbox One owners will be joining the fray. Greene himself walked on stage to announce the game will launch on the console later this year. In addition, an update will be released in 2018 that will add 4K support for the Xbox One X.
Deep Rock Galactic
Described by many as "Minecraft in space", Ghost Ship Games' Deep Rock Galactic will be another console launch exclusive for the Xbox One. It's a multiplayer co-op game that outfits players as dwarven miners. The dig down into areas like volcanoes and ice caves, explore, and grab as much loot as possible, then get out alive. The caves will be procedurally generated, making sure no two playthroughs are the same.
Deep Rock Galactic is class-based, so there will be upgrades that can be found but only used by a particular class. Skills can also be earned and used to level up stats unique to each. The teaser trailer shows the dwarves firing a flamethrower, an assault rifle, a shotgun, and a Gatling gun at a horde of spiders. I guess we'll find out which class is which in due time.
Deep Rock Galactic is expected to release later this year on Xbox One. It will also enter Early Access on Steam later this year.
Minecraft
It wouldn't be a Microsoft E3 conference without Minecraft news. One story is particularly juicy for players and fans.
For the first time, true cross-platform gameplay will be possible. Microsoft will roll out a patch this fall, named Better Together, which enables the cross-platform talk. This will allow players on PC & mobile and Microsoft & Nintendo consoles to play together.
Unfortunately, Sony will not make the party. They said that they will not allow cross-platform gameplay on their platforms. They cite the desire to not expose children to "external influences." You know, because they don't have those in Call of Duty.
A separate update, the Super Duper Graphics Pack, adds 4K textures to the game. That may sound cool, but…yea. I saw a picture of a retextured cow, and…just look for yourself: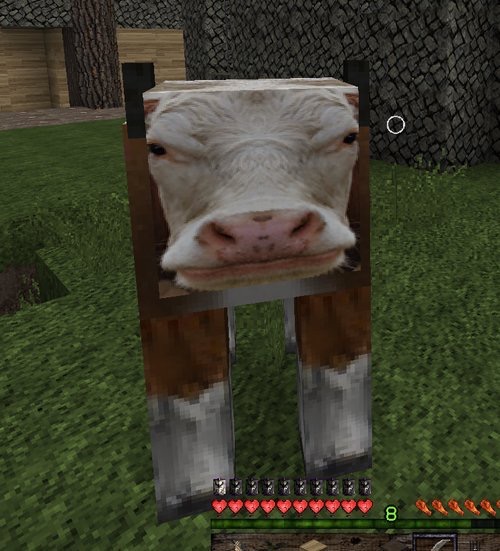 Four words: KILL IT WITH FIRE!
There are a couple of snags. Wii U and Switch users who have the Super Mario Mash-up Pack will have issues. The Minecraft team is working on a fix for those platforms
Both the Better Together and Super Duper Evil Satan Cow Graphics Pack will both drop this fall.
Dragon Ball FighterZ
This one is for my son.
Bandai Namco's Dragon Ball FighterZ is the fighting game fans have been waiting for. Developed by Guilty Gear creators Arc System Works, it's a 2D fighter with a three-versus-three team system. Think Marvel vs. Capcom 2 with a lot of powering up and screaming.
There are only a few confirmed characters so far: Cell, Final Form Frieza, Gohan, Goku, Innocent Buu, and Vegeta. It's a given that more will be announced before release. The characters also have final forms. For instance, Frieza can evolve into his Golden form, and Goku can hit SSJ3.
Watching the gameplay gives me so many Marvel vs. Capcom vibes. There are high jumps, air combos, assists, and screen-filling supers. When a fighter is downed, the next fighter jumps and fighting resumes. I'd have to get my hands on a controller to see if the timing is similar, but the ground combos and air juggles sure look right.
I'm happy this game is coming out, but not just for me. My son, who adores the Tenkaichi and Xenoverse series, has been dying for a proper 2D DBZ fighting game since the PS1. In an effort to quench his thirst, I imported Dragonball Z: Ultimate Battle 22 with a boot disc, and I bought him the US version of Dragon Ball GT: Final Bout. I'm just glad he didn't call Child Services and denounce me for parental abuse.
He called me as the trailer was playing. Yea, he's stoked.
Dragonball FighterZ is set to enter the ring in early 2018 for the Xbox One, PlayStation 4, and PC.
Black Desert
This section was just a rapid-fire sprinkling of teaser trailers for console launch exclusive titles. The first one was for Pearl Abyss' MMORPG, Black Desert. It's a port of the PC version Black Desert Online. I have no personal experience with the game, but it looks gorgeous.
Part of its good looks is courtesy of a 4K enhancement for the Xbox One X. The teaser trailer purports to have actual gameplay. Judging by some video of the PC version, I'd say it's accurate save for the UI elements. One thing I'll say about the game is that it has a ridiculously intricate character creation screen.
Black Desert should arrive on the Xbox One sometime in 2018.
The Last Night
Next up was The Last Night, an indie title from Odd Tales Games. Described by the developers as "post-cyberpunk", the game has been described by many as a pixelated Blade Runner. I think it's more a cyberpunk take on Another World, a pretty cool game from the 16-bit era of consoles. This game is actually a product of the #cyberpunkjam three years ago and has been laying low for a bit. It popped up just in time for E3 2017.
Details for the game are scarce, so the teaser trailer is our only source of information thus far. It has a 2018 launch window and will be available on Xbox One and PC.
The Artful Escape
Indie developer Beethoven & Dinosaur's The Artful Escape was next. It began life as a failed Kickstarter project named The Artful Escape of Francis Vendretti last year. Undaunted, they found a publisher in Annapurna Interactive and made it onto Xbox's indie slate.
The game is a music-inspired 2D platformer that seems to combine stellar tracks with a bad acid trip. The as-of-yet nameless protagonist wields a guitar and uses it to shred his way through a psychedelic landscape. The publisher says the game "is a video game about great expectations, famous folk singers, lingering shadows, space Gods, hallucinogens, individuality, reptile shops, and wild imaginations. It's an action, adventure, exploration, narrative driven, musical-laser-light-battle kind of game."
So there's that.
The game will launch for the Xbox One and PC "when it's damn ready." Their quote, not mine.
Code Vein
Labeled as "Anime Dark Souls", Bandai Namco's Code Vein is set in a city laid to ruin by "a mysterious disaster." Details are few, but the gameplay in the teaser trailer shows a lot of Dark Souls-ish combat.
The primary antagonists are the Revenants, vampire-like beings who feast on blood in order to power up abilities. Your character is also a revenant, and you have been tasked with putting them down. You can also feed on blood and replenish your own powers. Evidently, there is also a player-selected "companion" that will accompany you and fight as well.
Code Vein has no firm release date, with 2018 as precise as it gets. It will be available for Xbox One, PlayStation 4, and PC.
Tacoma
Fullbright, the developers behind Gone Home, are behind Tacoma, another console launch exclusive. Like Gone Home, it's a game in a genre artfully called "walking simulator." Since those games are high on narrative and mystery, few details about the game are known.
The game stars Amy Ferrier, a young woman onboard the space station Tacoma. The ship's crew has gone missing, and she must figure out what happened to them. She's assisted by an augmented reality AI named ODIN. He helps by giving her access to the crew's records, personal files, and recorded conversations. Using these tools, Amy has to piece together what happened on the Tacoma.
Tacoma will release on August 2nd for Xbox One and PC.
Super Lucky's Tale
Lucky's Tale, a launch title for the Oculus Rift, has escaped its VR confines and heads to Xbox One as a true console exclusive by developer Playful. Super Lucky's Tale, a non-VR sequel, follows Lucky as he sets out to rescue his sister and an artifact, the Book of Ages, from a baddie named Jinx.
The game looks like a modern take on old-school Rare collect-a-thon platformers like Banjo-Kazooie. The world is vivid, and Lucky is extremely cutesy. Lucky can double-jump, burrow, and tail-whip and jump on enemies, all the while picking up coins and other collectibles. There are also-mini-games, surprise levels that pop up out of nowhere, challenge levels, and obstacle courses. In short, it has everything fans of retro 3D platformers – like me – will absolutely love.
The world looks phenomenal, even more so when played on the Xbox One X in 4K. Everything seems alive; a huge golem that is part of the landscape actually does come alive. It's inhabited by a diverse group of creatures, including pumpkin-headed skeletons, ghosts, Beverly Hillbillies-looking worms, a farting onion dude, and smallish golems who keep losing their heads.  They and the world exude tons of personality.
I'd love to get my hands on Super Lucky's Tale when it releases on November 7th for Xbox One and PC. It's also a Play Anywhere title.
Cuphead
I have been waiting for this true console exclusive indie game to drop since approximately 1837. Cuphead, the brilliant shoot-'em-up that looks like a Betty Boop cartoon on 'shrooms, has seen some delays. Those delays have hurt my soul.
Studio MDHR first revealed this true console exclusive back at E3 2014. Originally planned for a 2016 release, it's been delayed as the game's size has expanded. The game lets players play as either Cuphead or Mugman and jump into Cuphead's world, collecting weapons and special abilities, finding hidden unlockables, and blasting an insane number of bosses.
I'm being completely biased here, but I don't care. This game looks incredible, like something ripped directly from the 1930s. The jazz soundtrack is completely original and totally fits the vibe of the visuals. And the boss battles look like Bullet Hell Lite.
I can only hope and pray that Cuphead will arrive on September 29th as promised. I need this game in my life! It will be released for Xbox One and PC, and it's a Play Anywhere title. It's also hitting Steam around the same time.
ID@Xbox
Microsoft's console indie program made an appearance, highlighting 30 separate titles in a montage. Some of them have been detailed in this space already; many are PC ports or launching on other systems. All of them look interesting. Here's the list with links to their respective homepages, wherever possible.
Ashen
Annapurna Interactive made another appearance during the conference with console launch exclusive Ashen, another Dark Souls-like open-world RPG. This one, however, focuses on cooperation.
Originally announced at E3 2015, the game is set in a world without a sun and only lit by volcanic eruptions. Your character is searching for a place to call home. The trailer shows a band of players roaming the lands, exploring caves, and fighting scads of creatures. The Dark Souls vibe is muted by the presentation, which is cartoony but still pleasing to the eye.
The cooperation comes in the form of co-op play. You will be able to team up with friends and brave the surroundings together. You will also meet other players who have their own skills and agendas. You have to decide whether you can trust them to help you.
Ashen does not have a release date. It is planned for the Xbox One and PC.
Life is Strange: Before the Storm
Square Enix returns to Arcadia Bay with Life is Strange: Before the Storm. Meant as a three-part prequel, it is being developed by Deck Nine Games. The original developers, Dontnod Entertainment, are working on a totally different Life is Strange game.
Before the Storm is set three years before the original game. It's meant to show the origins of the relationship series regulars Chloe and Rachel. Chloe is the main protagonist in this game, only she doesn't have magical abilities. Per Square Enix, her abilities will be more supernatural.
Max is not in this game, but she will be available in a pre-prequel that pre-order customers will have access to. That's a bullshit move, but I'm not surprised. Pre-order bonuses are just a fact of life nowadays.
Life is Strange: Before the Storm will be released on August 31st for the Xbox One, PlayStation 4, and PC.
Middle-Earth: Shadow of War
I absolutely loved Monolith's Middle-Earth: Shadow of Mordor. This October, Talion and Celebrimor pick up where they left off in Middle Earth: Shadow of War, and I could not be more ecstatic.
Assuming it releases as currently scheduled; the game has suffered one delay already. These things happen, and it doesn't diminish my anticipation. The chance to convert orcs, siege strongholds, and RIDE DRAGONS(!!!!!) makes me happy.
Middle-Earth: Shadow of War is scheduled to release on October 10th for Xbox One, PlayStation 4, and PC.
Ori and the Will of the Wisps
Ori and the Blind Forest is an absolutely beautiful game. Now developer Moon Studios is working on the sequel, Ori and the Will of the Wisps.
The trailer shown is only a teaser, but it is just as beautiful. The titular character returns, but there is no word on the story. Considering the heartstrings the original pulled, not knowing is not a bother.
Ori and the Will of the Wisps is a true console exclusive. It will be available for the Xbox One and PC. There is no release date as of yet.
Odds and Ends
Phil Spencer talked about Backwards Compatibility. He then revealed the next feature to be added to the program: compatibility with Original Xbox games. In particular, he mentioned that Crimson Skies was one of the games that would be Backwards Compatible.
In addition to the five games mentioned above, Spencer also said that 30 more games would be receiving 4K enhancements. Minecraft Is one of them, the others were not mentioned.
This happened after the conference: Microsoft announced a deal with Hyperkin that will see them manufacture the Original Xbox Duke controllers – the original, huge controllers that I positively love. They will be compatible with all Xbox Ones.
Spencer also made it a point to mention that all existing peripherals will also be compatible with the Xbox One X. I thought that would be a given…
The only moment I can recall that was even remotely cringy. It was during the trailer for The Darwin Project. Halfway through the trailer, a shoutcaster started belting out match highlight out the top of his lungs. It was meant to highlight the game's Show Director mode. After a few seconds, I got the gist of what he was doing. But I initially jumped out of my skin when he started barking out highlights like a pig auctioneer on Quaaludes.
Conclusion
Out of all the conferences, I felt the Microsoft conference was the most solid. Yes, they finally managed to announce a proper name for the new console, but they showed off a slew of games. The whole "console launch exclusive" is unfortunate, but I get it. Business is business, and they're trying to eke out every advantage they can.
More importantly, I got dates for games I'm salivating for. I feel they still have to work on their first- and second-party exclusives – Sony is eating their lunch in that department. But what I've seen so far is pretty impressive. Xbox fans like my son and Big Lu can do some serious crowing now. Even Ultra 8K fanboy Grumpy Joe gave their presentation props. He still bleeds Sony blue, so don't get it bent.